An Alternate Reality for Jewelry
#WeLoveEarth

01. We've adopted processes from the aerospace industry to make jewelry that is eco-friendly and ethical. Our coating procedure uses no water and chemicals, releases no fumes, and leaves behind no residues. By eliminating mined gold and gemstones, we can be less destructive to the environment and not harm vulnerable communities.

#NoGreenSkin

02. Through advanced technology and nontraditional materials, we're able to create affordable pieces that not only are more durable (we're waterproof and chemical resistant) than gold plated and vermeil jewelry, but are also hypoallergenic. We achieve our gold and rose tones using a strong, biocompatible ceramic (found on asteroids and used on rockets) that doesn't harm living tissue.

#WeComeInPeace

03. There has been too little change in the jewelry industry, and we no longer should only be able pick between two ends of the commonly accepted jewelry spectrum (fashion vs. fine). As a jewelry alternative, we offer something that looks and feels high-end — all at a more universal price point. Will you join us on our journey?
Regular price

Sale price

$28.00

Unit price

per

Regular price

Sale price

$32.00

Unit price

per

Regular price

Sale price

$10.00

Unit price

per

Regular price

Sale price

$18.00

Unit price

per
Let customers speak for us
Love it!!
I got yellow gold color. I've been wanting a real gold herringbone chain for years, but can't yet justify spending the money on one. For the price of this chain, you really can't beat it! I haven't had it for very long, so I can't attest to it staying gold. (I hope it does) but it looks great. I don't think anyone would realize this isn't real gold. I have real 14k gold hoops that I wear every day, and you can't notice a difference between the two materials.
I got the 16" chain first but it looked more like a choker on me, which wasn't what I was going for. The exchange process was super easy and I got the 18" which is perfect!
I highly recommend this jewelry if you're looking for a cheaper alternative to yellow gold or gold plated. I wish I could upload a picture with a my review so I could show how good it actually looks!
Perfect Everyday Hoops!
Ready Made has been my go-to jewelry company for a while now (I have at least 7 items in my collection). These hoops are the perfect size for daily wear. I literally wear the micro, mini, and infinity hoops in my three ear piercings every day. My skin is quite sensitive and I've never had a problem with these earrings (or any of their jewelry). So grateful to have found great quality jewelry priced within my budget. AND the customer service is amazing!
of course it's perfect
I have been amassing a substantial collection from Ready-Made and will continue to do so - everything has been great in terms of style and quality. This bangle is no exception. Goes perfectly with some gold filled bangles I have that are thinner. It is a good weight so if you want a very light weight bangle, Im not sure you would love this but I love the weight. Two notes: it is oval shaped instead of round but it works well with my round bangles. I thought the M would fit but had to exchange for the L. Easy exchange!
Wear like real gold
Love these earrings. They wear like real gold. They are not too heavy but also have enough weight to feel more substantial than costume jewelry.
Dainty herringbone
Love this dainty little herringbone chain! It's strong but light so I can barely feel it on my neck. It will move around my neck easily so sometimes I have to pull it down into place but it doesn't bother me. It fits all of the Ready-Made pendants and I love pairing it with the pendants I have. I love matching it with the 4 mm herringbone chain too.
soooo dainty and cute
This is super comfortable to wear and I highly recommend the 16 inch length. The option to add a subtle shadow engraving also adds that custom touch to the piece and I had to order a second chain in another finish haha. Much more lowkey for everyday wear vs the regular herringbone (but still elegant).
Love love love 🤗
No irritation at all! So simple and chic, love how smooth it feels? Maybe all jewelry is but this is noticeably smooth 😂
✨️liquid metal ✨️
This herringbone chain is gorgeous! It's so shiny, smooth, and does not snag my long hair. The price point is so affordable and I love that you can add pendants to it or wear it alone as a statement piece!
Beautiful
I've been wearing this for 2 weeks now and haven't taken it off once. It's been on runs, in the shower and everything in between yet still shines like day 1. Will be getting more pieces soon!
Love them!
I got these hoops to keep in semi-permanently because for some reason my ears get really sensitive and swollen when I change out my earrings regularly. So I was needing something I could trust to not irritate the piercing holes (ear-ritate? Eh?). Anyways I've had these in for a week and I love them! Love the price too. I don't have the clasp issues that others have had. This brand is a great find and I'll probably buy from them again. I hope their claims about how they're manufactured are true.
Love it. Cute. Good quality. Has helped me heal my cartilage piercing.
Beautiful and comfortable
I bought this ring so I would have something to match some real gold heirloom jewelry I had recently inherited and it is perfect. It is sturdy even though it is thin and I don't need to worry about it bending like some thinner rings. It is also comfortable and it is easy for me to forget I am wearing it. I love it so much I wish there were more ring options for me to buy
Comfiest earring
I've tried ALL the earrings that say they won't hurt your ears and literally none of them work for me. The only earrings I've ever been able to wear are surgical grade steel. I am so happy to say that I've had zero issues at all with these and i've worn them consistently for the last week. I even fell asleep in them which I usually hate but these were so comfy I didn't even notice. I don't have the usually burning or "knotting" I get in my ears and I AM SO HAPPY I already purchased another pair.
Super fun!
Everyone notices them. I love them. I am sensitive to metals and these don't hurt my ears at ALL.
Well done! ✨✨✨✨✨
Stunning quality
I'm amazed at how brilliant my gold rings are! I have worn them everyday since receiving them and they are still good as new. I had the custom engraving done as well and it turned out so lovely. They look like I paid WAY more money for them than I did, the value is beyond compare. I will be back for more!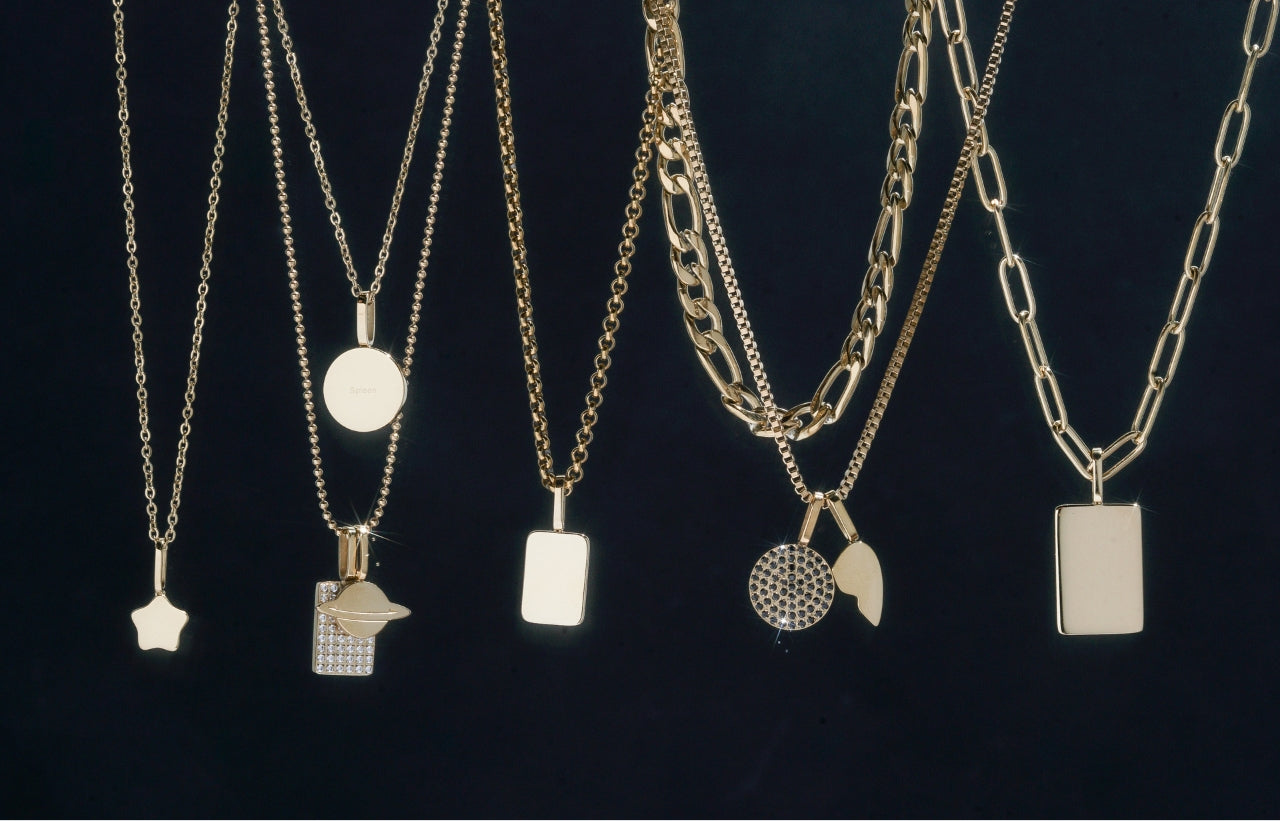 Buildable Necklaces
Build your own necklaces with polished gold, rose gold, and silver pendants in a series of shapes and a variety of chain styles - from dainty cable link to heavy rolo and everything in between - in a variety of lengths.
Build
Refer A Friend
Give 10%, Get 20%
Sign Up